What is Blank Space?
We're a bright, spacious, flexible and comfortable internet cafe and community space for coworking, studying, meeting, learning, tutoring, collaborating, networking, socializing, entertaining and more.
We're a place to go to clear your mind and carve out blank space time for planning your next project, improving your productivity and working on your creativity. 
By day, we're designed for the business and tech professional, grad student, entrepreneur, field sales rep or anyone looking for an option to working from home or a crowded coffee shop. 
Evenings and weekends provide opportunities and space for business and organization meetings, workshops, networking, community and social events.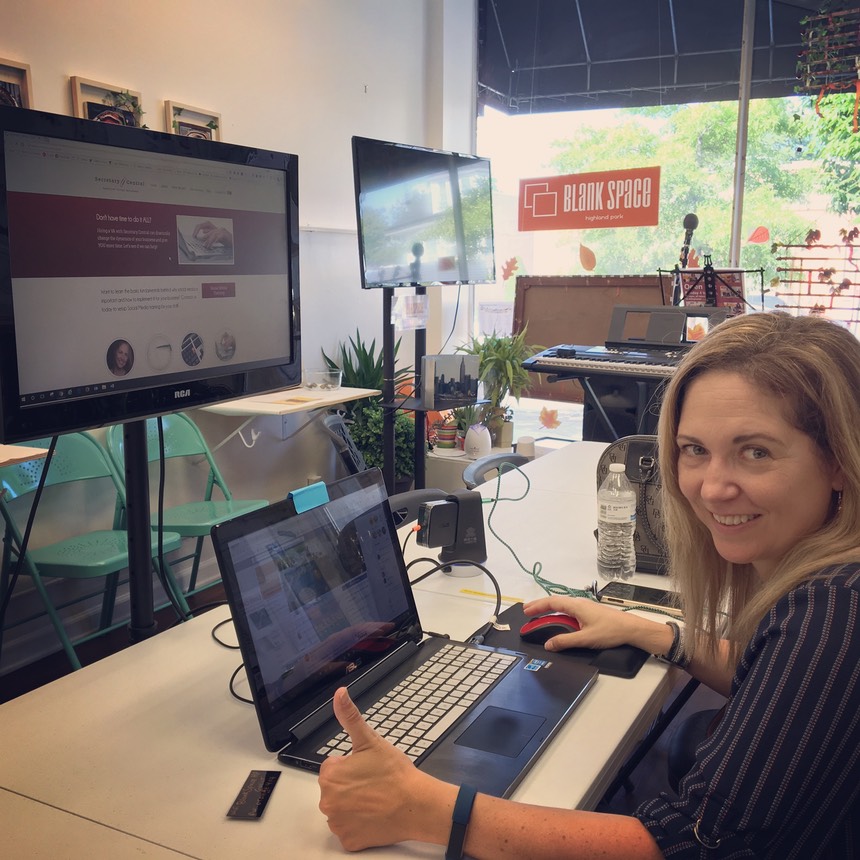 Jen Wilner, president/CEO of Secretary Central, a professional virtual assistant firm, uses two monitors in a vertical setup at Blank Space Highland Park.
For our business clients, we offer room to spread out, free wi-fi, use of office supplies, dedicated power strip, charging station and someone to watch your stuff if you have to use the restroom or step away. Bring your own food or order take-out or for delivery.
Affordable hourly rate starts at $5 per hour (per person) and includes free coffee, tea, water, lemonade and snacks. Meeting space rental starts at $35-$50 per hour for group meetings and private events. Contact Blank Space Highland Park for more information or to book a reservation.
Business Hours 
Hours are flexible; limited early/late hours may be available by appointment - see also: Events 
Monday - BY APPOINTMENT
Tuesday @ 12 p.m. - 6 p.m.
Wednesday @ 12 - 6 p.m.

Thursday @ 12 - 6 p.m.

Friday @ 12 p.m. - 6 p.m. 
Saturday - CLOSED PRIVATE EVENT 
Sunday - CLOSED EASTER (no Open Mic this week)
. . .
Visit us: 414 Raritan Ave., Highland Park, NJ 08904 and on social media.
Call/text: 908-866-6576

Email: BlankSpaceHighlandPark@gmail.com
We now carry vegan cupcakes made by BAM Desserts. Your choice of Chocolate or Chocolate Peanut Butter, $2.50 each, limited quantities. We also take custom orders, including BAM cakes, for pickup at Blank Space, call/text us for details: 908-866-6576.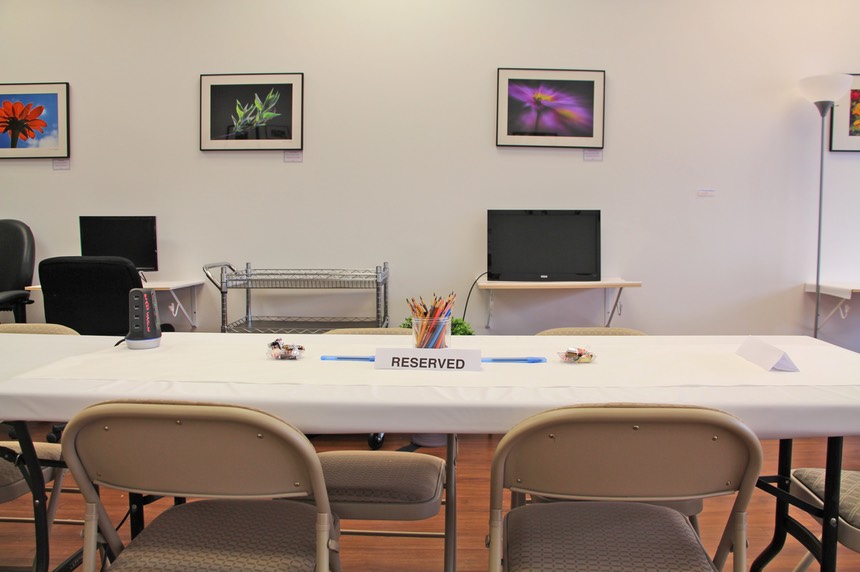 Be productive - get errands done during your visit
Conveniently located next to Stop & Shop supermarket, dry cleaners, laundromat, post office, Wells Fargo bank, Dollar City and the legendary 418 Burgers. Steps away from a variety of restaurants, Rite Aid pharmacy, computer stores, Pino's Wine Cellar, art supply store, graphic design services, Through the Moongate gift shop, Over the Moon Toys, family physician, gas station, hair salon, yoga and more.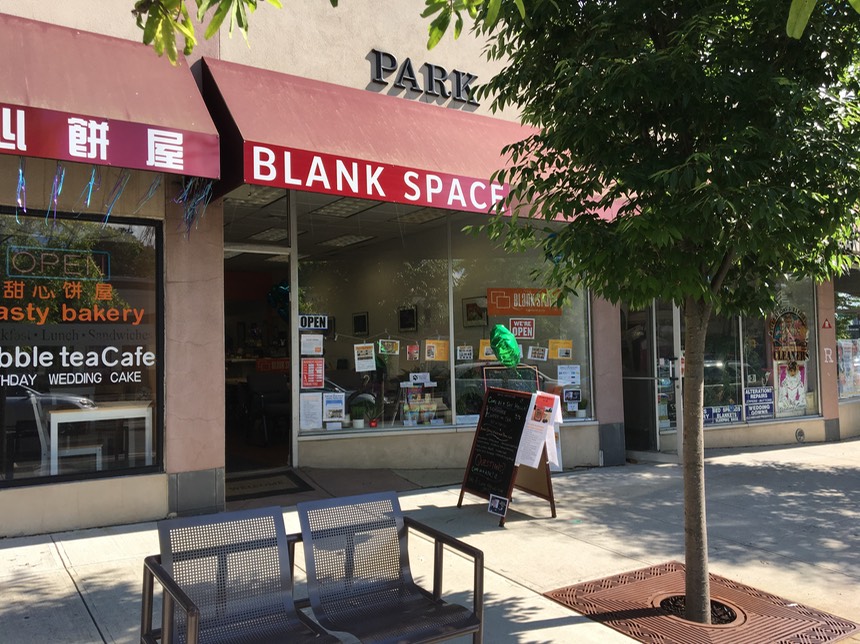 Thank you for booking your business or social event at Blank Space!

Over the past year, we have welcomed book clubs, group meetings, art exhibitions, musical performances, pop-up retail shops, private parties, reunions and public events. We thank you for your business and support.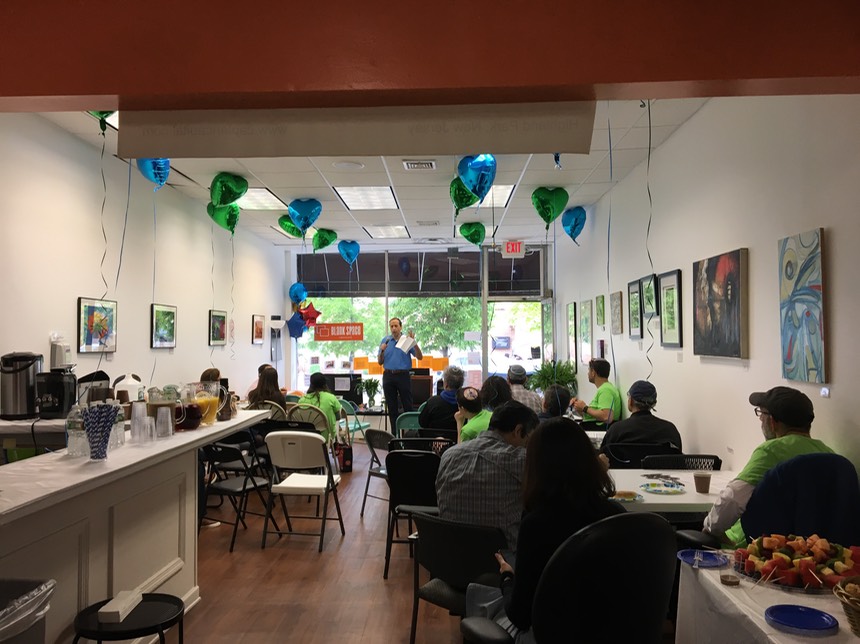 Business Meeting Packages
Perfect for business presentations and workshops, our business meeting package includes high-speed internet, use of a large screen monitor or computer projector, Bluetooth audio speaker and PA sound system with microphone and an experienced meeting planning coordinator to help make sure your meeting runs smoothly. Complimentary coffee, tea, water and refreshments are always included in meeting packages.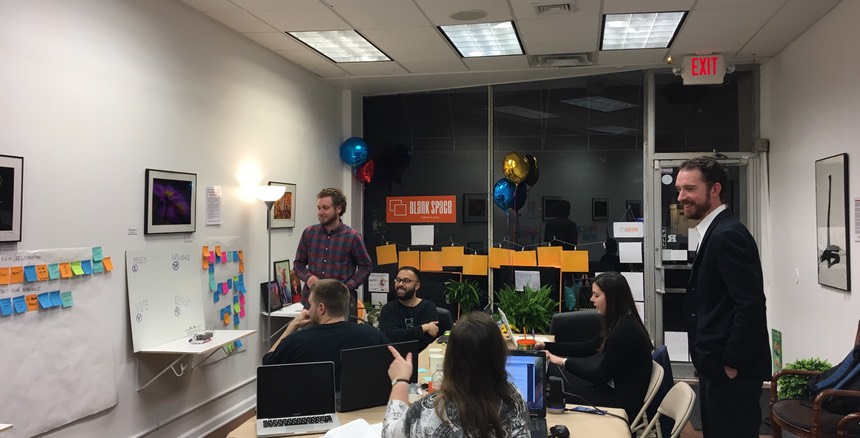 Rates:
includes coffee, tea, beverages, snacks, high-speed wi-fi, limited business services
$5/hour per person |  $25/day  |  $50/week  |  $160/month per person
Email for more information or book a visit: blankspacehighlandpark@gmail.com
Business Support Services On-Site
Color, black & white printing

Scanning

Shredding

Laminating

Basic editing (reports, essays, papers, resumes)

Notary services (by appointment)

Basic business cards (small quantities)

Heavy-duty stapling, booklet stapling

Photography

Video / audio production

Presentation preparation

PowerPoint or Keynote slides creation or editing

Public speaking coaching

Semi-private space available for video interviews, conference calls, private tutoring, client meetings or testing.
For More Information
Call/text 908-866-6576, email blankspacehighlandpark@gmail.com or book a reservation at http://blankspacehighlandpark.com/reservations.html
Directions: 414 Raritan Ave., Highland Park, N.J. 08904 https://goo.gl/maps/1578Kr91Xnz
… 
To book a reservation: http://blankspacehighlandpark.com/reservations.html or email blankspacehighlandpark@gmail.com or call/text 908-866-6576.
. . .
SPONSORS and PARTNERSHIPS WANTED
Visit our SPONSOR page to learn how we can work together!
. . .

Thank you 
...for the outpouring of love and support for the success of our new venture! 
we appreciate those who stopped by or called during our soft launch.
we are now accepting advance reservations for daily coworking/study space, group meetings and private events. see our "Reservations" page to place a request.
...
Take our poll: what hours should we open?
(link for google poll: https://goo.gl/forms/67q2zu9h8Abl5XMm1)
...
Come visit us!
Mention the Facebook post below to get a free cup of coffee or tea!